Internet connection in Brno
In Brno there are many cafes, some of them has free Internet connection for guests. My favorite cafe with free wifi hotspot is Pod Obrazy. It is at Moravske namesti 1a square. You have to go inside the gallery next to the church and than left. The Pub Vesela Vacice also provides free wifi hotspot.
Free wifi connection in Brno also provide two KFC fast foods (Ceska 1 street and Masarykova 37 street).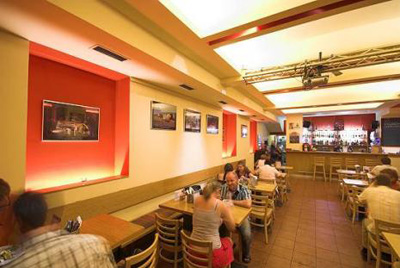 Vesela Vacice Pub
Free public Internet in Brno
If you have no money and no computer and desperately need check the Internet, don't panic. City of Brno provides few old crappy computers with Internet connection for free. Public Internet access is in city center at Masarykova 25 street and Radnicka 8 street. The only problem is you will not be there alone so you often have to wait a moment.
Internet cafes in Brno
Pink Panter (Ceska 20 street) - Internet cafe situated at the main street in city center. Open nonstop in Hotel Avion.
Netkafe.cz (Jezuitska 3 street) - Internet cafe with 34 computers and fast Internet connection.
Galaxy Internet (Smetanova 1 street) - Internet cafe with refreshment.